Make Money in the Metaverse
What is the Metaverse
what it is and what it means to the job market. The Metaverse is a collective virtual shared space created by the convergence of virtually enhanced physical reality and physically persist in space, including the sum of all virtual worlds, augmented reality, and the internet. while it might take a few more years until we can fully experience the metaverse in an immersive way, this is not even the beginning. The concept of the Metaverse is actually not new in that it's brand-new information. It was first introduced back in 2012 by Neal Stephenson in his book Snow Crash, and then in 2018, it was made popular by the movie Ready Player One.
A whole virtual universe. if you haven't watched this movie, when you do, you probably will be wondering, how far are we really from this kind of world because of all the things they can be? Can you feel this? for those of you who are familiar and like playing online games or for those of you who have kids who are into this, then you definitely are familiar with Fortnite or Roblox. And then recently, Mark Zuckerberg announced the rebranding of Facebook into Metta and their new future vision. I am proud to announce that starting today, our company is now Metta, which kickstarted this whole trend and resulted in companies like Microsoft announcing that they actually see the Metaverse as the next step in terms of embedding computing into the real world, especially when it comes to hybrid work.
I mean, first of all, I think that this entire idea of the metaverse, which is fundamentally comes from increasingly as we embed computing in the real world. You can even embed the real world in computing. And then also the Disney CEO mentioned in an interview that he actually sees Disney Plus as the platform for the Metaverse. Well, my vision is to use Disney Plus as the platform for the Metaverse. But in reality, nobody can own the Metaverse. Instead, everyone will own a part of it. So virtually the largest companies on the planet are currently fighting over a piece of the metaverse, which actually is really good for the job market because Facebook alone announced that they are creating over 15,000 jobs to start working on this grand vision. So definitely, you're starting to see that there is tons of opportunity. As far as the metaverse jobs are concerned.
What are the Metaverse Opportunities?
But now the question is where is this opportunity and how to prepare for it so that you can really take advantage of the metaverse trend? So let's take some specific examples to understand where the opportunity is and how the Metaverse can really impact the world as we know it, as well as the world of work and the job market. In the corporate world environment, for example, meetings can probably move from virtual to fully immersive. You can even put on, you know, your goggles or like a HoloLens or what have you and go into an immersive meeting where your embodied self as a hologram or as an avatar can with spatial audio even relate to others. And actually, through the use of spatial sound. People who are present physically can be plugged into the metaverse. as well as people who are connected virtually or remotely, can seem as if they are there in person.
Concerts in the Metaverse
Not only that but concerts can and are being organized in the Metaverse. One of the first ones who hosted a concert in the Metaverse was Travis Scott, using a very well-known platform like Roblox. And more recently, Ariana Grande hosted a concert with over 40 million people in Fortnite and very, very recently. Only a few days ago, Justin Bieber had a concert in Wave. And to create these concerts, entire worlds have to be built in the metaverse. And then people from literally anywhere can join in. If you've ever attended a concert in the Metaverse or if you'd like to attend one, I would love to know.
Fashion in the Metaverse
And then there's also fashion. Not only are there lots of examples where virtual clothing pieces or shoes have been sold, but also Nike has recently filed a trademark request to patent virtual goods. Not only that, but companies like Louis Vuitton had entire fashion shows done in the Metaverse, and, Louis Vuitton ran one and entire fashion show in League of Legends.
Real-estate in the Metaverse
There's also some component of real estate that is being done currently in the Metaverse. And, people are spending millions and millions of dollars to buy virtual land, basically in places like Fortnite or Roblox. Can you already see them starting to lend those out to rent those out and start charging for them and make money in the metaverse?
NFTs in the Metaverse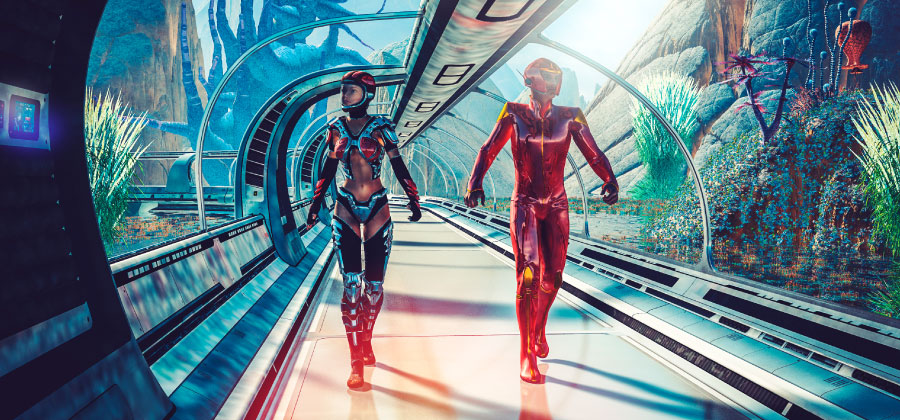 NFT is another example where people are investing money to own digital art that is secured through a technology called a blockchain. Fun fact to some of you, this probably looks like a cute picture of a monkey, but there's a story behind it. A couple of weeks ago, my husband went on this weekend trip with his friends and. He came back with this baby, a picture, and $300 less in his bank account. And I mean, sure, it's a cute monkey. But $300, really. Of course, it's an NFT, and probably in a few months or a few years, this will be worth a lot more. But $300, really? All right. So you are starting to see that there are tons of opportunities in terms of how metaverse can impact our reality, our entire world. So, let's look into exactly how the job market is going to look as far as the metaverse is concerned.
Will there be Real jobs in the Metaverse?
You're probably wondering after seeing all these examples, OK, but is the metaverse only for fun or will there also be jobs out there? And obviously, the next question that comes to mind is what kind of jobs and where can you apply to them and what kind of skills do you need to get hired? So, let's get specific in terms of exactly what kind of jobs will there be? As far as the Metaverse is concerned, according to John Write off in this article that he recently published in Medium, there are six categories of jobs that will likely exist in the Metaverse and category.
Number one is the creators, the ones that make assets. Let's say they are the artists, the moderators, the dialog writers, the videographers, the fashion designers if you will, all the ones that will be making assets for the Metaverse. And we're going to talk a little bit more about them in just a moment.
Category number two is the performers. They are the ones that create content in real-time. And we mentioned the concerts a little bit ago. And actually, the artists, the musicians, they will be performers.
They are the type of jobs that say that we'll be creating this real time content category. Number three is the Bridgers. They are the ones that connect the two worlds. They connect to the physical reality and the virtual reality in the Metaverse, and they are the historians, the tour guides, and so forth. Category number four is the community. They are the ones that attract, engage, and help people within the Metaverse. They are the evangelists; the marketeer is the customer support and so forth. Category number five is the builders. They are the ones that design and create the metaverse. And we will talk even more about this kind of job type or category.
Real Metaverse Job Examples
They are the ones that are there to learn and experience and enjoy the metaverse, so to speak. So, let's take these categories and break them down and take some specific examples of jobs that are currently in the market and that are open for you to apply to if you fit with the search criteria. So, let's look. Obviously, if we look at the current job opportunities that exist in the market as we speak, they fall mostly into out of the six categories. And here we're talking more about the builders and the creators. And this is for obvious reasons. We first need to develop the metaverse. We need to build it and create the content in order for the other categories to be able to fully immerse themselves and interact with the Metaverse and experience it at its best. Facebook alone, for example, announced that they will be opening over 10,000 jobs in Europe alone and many more worldwide in order to start building their version of the Metaverse and in order to bring their brand vision to life. A lot of builder type jobs will soon open. For Facebook alone and here, I'm talking about game designers and coders that can really bring this virtual reality to life. There will also be, and there are already some job openings for jobs, like a backend engineer who is able to develop an NFT exchange platform. And this one is obviously a very technical role, but it requires having a lot of creativity as well to be able to design this platform. Now, if we look as far as the creators are concerned here, we're probably going to start seeing jobs like a virtual fashion design or. And virtual experience designer and content producer. But there are already some jobs like this available. Nike is currently hiring for a virtual material designer because if you remember, I mentioned earlier that they filed for this trademark for virtual goods. So, you are going to start seeing Nike producing virtual clothing and virtual shoes. And that's why they are hiring for virtual goods designer or virtual material designer so that they can start using that in the metaverse. And then obviously, later, we're going to start seeing more and more jobs in the other four categories emerging in the job market.